These are pictures from my last classroom. At the time I took these, I wasn't planning on sharing them on my blog (I didn't even have a blog!), so things aren't quite as tidy as they could be. Still, I think there are some really cool features to the room.
Here's a picture standing by the doorway. You might notice that my room didn't have risers. They are so darn expensive! Chairs in the music room can definitely be a pain, especially for younger students. To help students keep their chairs still and in neat rows, I bought yellow floor tape and taped it on the ground in front of each chair. At the end of each class, students line up the front two legs with the tape, and the chairs look great for the next class! Here's a link to the tape in case you need some.
Below is a closer view of the front corner of the room. I found free xylophone labels here. I didn't know what to do with the chalkboard as I HATE writing with chalk (the sound gives me the heeby-geebies), so I had my husband spray-paint a picture of a guitar on it. I thought it turned out pretty cool! I love inserting different rhythms into the blue pocket chart on the wall and playing rhythm games with my students. You can download free rhythm cards here (pages 20 & 21).
Here's a picture of my "Instrument Corner." I made the letters by cutting them out of colored card stock, punching a hole in the top using a hole puncher, and tying fish wire to each one. I then hung the wire by gently pushing up the ceiling panels and sliding each wire underneath. The bins are all from Dollar General and the Dollar Tree.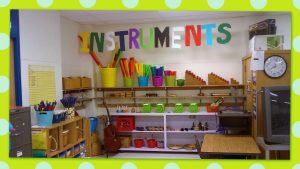 Below is my guitar/reading corner. My husband made the guitar holder out of 2 two-by-fours. He screwed garden tool hangers into the two-by-fours by hand and then drilled each one into the wall using masonry screws. They work perfectly!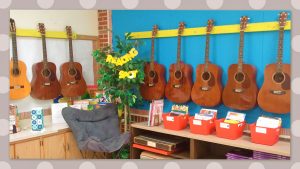 Thanks so much for taking a peak into my classroom!
Save