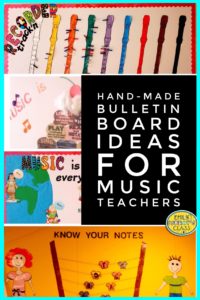 It's almost back-to-school season, and that means it is time to start thinking about bulletin boards! There are a lot of bulletin board sets circulating around TPT and Pinterest, so I thought you might enjoy some unique, hand-crafted bulletin board ideas and embellishments. Two of the boards I included have hand-made touches combined with store-bought sets, and two were created almost entirely by hand.
I hope this post gives you some fresh ideas and inspiration as your prepare your bulletin boards this year!
A Few Tips Before We Get Started
You will notice as you browse these pictures that three of the bulletin boards have the same background and boarder. That is because I STRONGLY believe in making the process of changing bulletin boards as easy as possible. At the beginning of the year, I pick one border that I think has the best chance of going with all of my boards throughout the year. I chose red because every board I had planned for the year had at least a little red in it. I chose the solid white background because, again, I thought it would match all of my boards throughout the year. Another helpful tip is to always use fabric for your background NOT bulletin board paper. Fabric can have staples taken in and out without ripping and forcing you to re-do the border and background every single time you change your board. For my fabric, I measured my board and then went to Jo-Ann's and had one of the employees there cut some cheap white fabric to the dimensions of my board. (Note: It is better to have them cut a piece that is too big rather than too small! You can always trim the fabric once it is stapled to your board.)
Recorder Bulletin Board
This board was hand-made with the exception of the letters (which I bought here). I used it during recorder karate to create an engaging way for students to track their progress. I purchased the clothespins from the dollar store, gave one to each student and instructed them to decorate or write their name on it. Students then moved the clips up every time they passed a level in recorder karate.
Directions for making the recorders:
Get bulletin board paper in each of the colors shown in the picture. I found large rolls in the teacher's lounge at my school.
Cut a long strip off for each color and take them back to your room
Find an image of a recorder online or by clicking here, and display the image (using a projector) onto a white board or chalk board. Measure the length of the image to make sure it will fit onto the bulletin board you are using (make sure it's not too long or short).
Place one of the colored papers onto the board using magnets and trace the image using a thick sharpie. Repeat this process for each color. If you accidentally move the paper as you are tracing, simply line it back up and keep going!
NOTE: TRY TO GET A PARENT VOLUNTEER TO DO THIS NEXT PART FOR YOU. IT WILL SAVE A TON OF TIME! Cut out each recorder. For longer lasting recorders, laminate each one after it has been cut out. Make sure to hold the recorder flat as it goes through the laminator. If you let go, it will wrinkle as it is going through, and you will be very frustrated!
Staple each recorder to your board, measuring the space in between each recorder to make sure they are evenly spaced. Staple each recorder at the top, middle, and bottom, leaving room for students to slide their clothespins onto the recorder.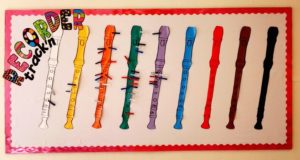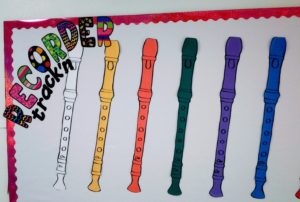 Music Is A Treat Bulletin Board
There are tons of cool variations of this board on the internet! I found a free download here.  The hand-made touch that I added was a 3-D version of the "whipped cream." To do this, I cut out, laminated, and stapled the pictures to the board, leaving a little space for the whipped cream. I purchased polyester fiber filling here, took about half of the bag out, spread it out a little with my fingers, and then stapled it a few times to the top of the "Sunday." I added the cherry last!
I made the orange bowl and cherry out of colored bulletin board paper. I drew and cut out the bowl by hand. I made the cherry by placing a bowl onto the paper and tracing around it.
Music Is A Universal Language Bulletin Board
I purchased this set at Mardel's several years ago, and they don't appear to carry it anymore. Let me know in the comment section if you find one that looks like mine…I have looked everywhere! The closest I could find was here on TPT. I bought the letters here.
The hand-made touch I added to this board was the world in the background.  First, I took the left red border off of the board and loosened the edged of the top borders. I was rushed for time that day and didn't feel like measuring, so I simply cut a half circle out of blue bulletin board paper and stapled it to the board (before I put any of the people or letters on). Once it was on, I trimmed it to match the size of the board and then stapled the border back on. I cut the land out of green bulletin board paper. I did mine by hand, but you could display each continent using your projector and trace it onto the green paper if you wanted it to be more accurate.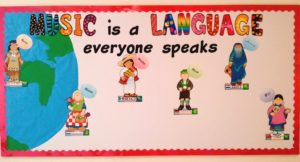 Know Your Notes Bulletin Board
This was BY FAR the hardest hand-made bulletin board I have done because the ENTIRE thing (with the exception of the letters) was drawn, colored, and cut out by hand. I would not suggest drawing the people by hand (which was the hardest part). Let me know in the comment section below if you find a store that carries pre-made cut-outs of students or kids that could be used on this board!
Directions for making the shirts:
Get various colors of construction paper.
Choose one color (it doesn't matter which one) and draw a small picture of a shirt (about the size of your fist) near the edge using a sharpie.
Cut out that shirt and lay it on one of the other pieces of paper. Trace the shirt using the same sharpie. Do this for all of the colors (you will need 9 shirts).
Go back and draw a letter in the center of each shirt
Laminate each page
Cut out each shirt (this is a great thing to have a parent or student volunteer do for you!)
Directions for making the clothesline:
Cut out two long strips of brown bulletin board paper. Laminate them for longer use.
Staple them to the board.
Push 5 push pins into the center of each brown strip.
Tie yarn to each pin to create the "lines" of the staff.
Staple the shirts with the letters F, A, C, and E in between the lines. Use clothespins to secure the shirts with the letters E, G, B, D, and F to the yarn.
Looking for more bulletin board ideas? Check out this free owl-themed bulletin board (found in my TPT store) that helps students learn about careers in music!
I hope you enjoyed these ideas! Let me know in the comment section below if you think of anything else to add to one of these boards. What are some fun hand-made bulletin boards or embellishments you are doing this year?
Save
Save