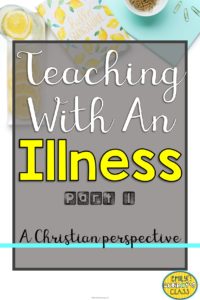 I have been sick on and off for the past two years, and my symptoms have been getting worse for the last four months or so. I have everything from nausea and stomach pain to dizziness, night sweats, mood swings, and infertility. I have learned over the last two years that illness is tough…much harder to deal with than I expected. It makes functioning daily hard, and it has tested my faith in Jesus and highlighted areas of weakness that I didn't know existed when I was healthy. But my illness has also made me dependent on Jesus again and has taught me that things that appear negative are not always as they seem.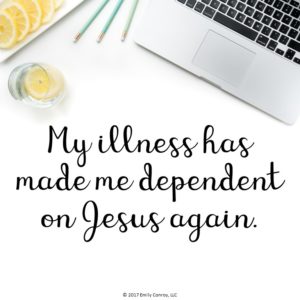 The following is a list of spiritual lessons Jesus has taught me over the last few months. If you're reading this and suffering from an illness, I hope it will give you encouragement and strength as you try to function as a teacher.
(Note: I plan on writing a Part II that will focus on practical day-to-day suggestions for teaching with an illness, but I wanted to begin with what I think is the most important part of dealing with illness: the spiritual.)
1. Turn To God First
This is probably the most important lesson Jesus has taught me this year. My tendency is to run to doctors, friends, and Google to get answers and comfort regarding my symptoms. But Jesus is teaching me that He must be the foundation for my comfort and decision-making. For example, my symptoms started to get worse about six months ago, but they began with only emotional changes like mood swings and anxiety. I assumed that the problem was purely spiritual and began praying and reading the bible more, but they kept getting worse. During this time, I started to think that God might be telling me to stop working on my store (my full-time job), but almost everyone I talked to said that that advice didn't sound like God. Eventually, I took a leap of faith and stopped working, and a few months later, a long list of new physical symptoms began. I think that God knew that I had an underlying physical condition that was about to get worse, and He wanted my body to rest (that's my guess anyway).
I realize that my TPT store provides me with passive income and that not everyone has the luxury of being able to stop working when they are ill. But the point is that God alone knows your unique situation. He knows exactly what is happening inside your body. Your friends, family, and even your doctor don't know nearly as much as God does (although they should all be consulted at the appropriate time and in the appropriate order). God is teaching me that all humanly advice and tests should be weighed against what He has told me through the Bible and prayer.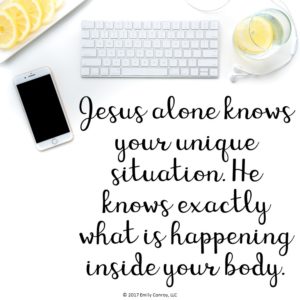 2. Pain and Discomfort Have Benefits

For a long time, I was focused on how much I hated the discomfort of my symptoms and the question of what I might be doing wrong to cause it (this was especially true for my anxiety).  One morning during a prayer, I asked God why this was happening to me. After several minutes of sitting in silence, I remembered that there was a story in the bible…something about Paul and a thorn (I have only been saved for four years and I didn't know much about that story other than those two words). I turned to it and began reading:
   "So to keep me from becoming conceited because of the surpassing greatness of the revelations, a thorn was given me in the flesh, a messenger of Satan to harass me, to keep me from becoming conceited. Three times I pleaded with the Lord about this, that it should leave me. But he said to me, 'My grace is sufficient for you, for my power is made perfect in weakness.' Therefore I will boast all the more gladly of my weaknesses, so that the power of Christ may rest upon me. For the sake of Christ, then, I am content with weaknesses, insults, hardships, persecutions, and calamities. For when I am weak, then I am strong. (2 Cor. 12:7-9)"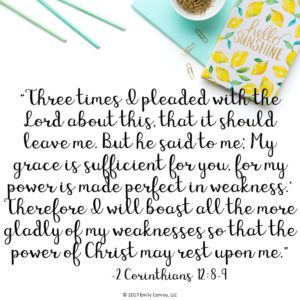 I was shocked. Paul was glad and content about his thorn in the flesh? As I was reading this passage, an unexplainable peace swept over my whole body and I realized that God wanted me to like my symptoms because my weaknesses force me to access and rely on God's power (at least that's my best way of explaining it).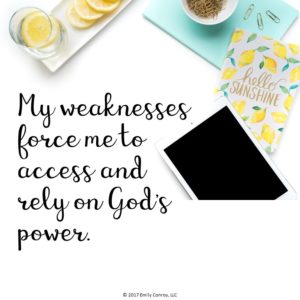 In his book, "The Word on Health: A biblical and medical overview of how to care for your body and mind" Michael Jacobson lists seven different causes of illness as described in the bible. Prior to God sending me to the passage about Paul, I thought that my symptoms were either a result of sin or of breaking natural laws (like eating unhealthily), but God showed me that the main reason He is allowing me to suffer is to strengthen my faith by allowing me to be weak. Now when I get dizzy or nauseous or anxious, I try my best to raise my hands in the air and thank Him for my weaknesses.
Here's a link to the book mentioned above if you're interested:
3. Worshiping God When Your Body Is Screaming
Notice that I said, "I try my best" to thank God when I am feeling sick. Another lesson I am learning is that it is REALLY tough to worship God when my body is screaming. It's not that I am mad at God. It's just that my body is so loud; it's difficult to focus on anything else besides the pain.
A few weeks after I read the passage on Paul's thorn in the flesh, some videos and comments by friends alerted me to the story of Job (which I also had not read—don't judge me. The bible is big). Just in case God was trying to teach me something again, I went to the Book of Job and started reading. Two things surprised me about this story. 1. Job's trials were not his fault. 2. Job REALLY struggled to be positive and worship God while he was physically and emotionally suffering:
"I loathe my life; I will give free utterance to my complaint; I will speak in the bitterness of my soul. I will say to God, do not condemn me; let me know why you contend against me. Does it seem good to you to oppress, to despise the work of your hands and favor the designs of the wicked? (Job 10:1-3)"
As I was reading it, I honestly thought that God was going to reprimand Job for the things he said while he was suffering, and in a way He did by saying things like, "Where were you when I laid the foundation of the Earth? (Job 38:4)." But at the end, God says to Job's unhelpful friends:
"…you have not spoken of me what is right, as my servant Job has. (Job 42: 8)"
So even though Job was very unhappy during his suffering and even accused God of "contending" against him, God says that Job spoke of God correctly. I'm not very skilled at biblical knowledge, but my best conclusion is that God understands how hard it is to suffer and shows a certain amount of grace to those of us going through trials. I try to raise my hands and worship Him as often as possible when I am sick, but sometimes I just can't seem to muster up the strength. At those times, I try to mimic Job and be honest with God. I tell Him how much I hate the discomfort and how much I miss being healthy. Oftentimes, God will honor my honesty by changing my feelings or giving me the strength to raise my hands in the air.
4. Choose Jesus Above Even Your Life
Jesus clearly wants us to care about our life and the lives of others on Earth. But He has also taught me that my desire to live cannot be greater than my love for Him:
"Then Jesus told his disciples, 'If anyone would come after me, let him deny himself and take up his cross and follow me. For whoever would save his life will lose it, but whoever loses his life for my sake will find it. For what will it profit a man if he gains the whole world and forfeits himself?' (Matthew 16: 24-26)"

I struggle with worrying that my symptoms could be the result of something life-threatening. I don't want to die. But I realized a few weeks ago that I care a lot more about living a long life on Earth than I do about Jesus. And I have noticed that as Jesus rises in importance in my heart, my fears of death slowly decrease.
What does all of this have to do with teaching? I feel so much empathy for those of you who have to pull yourselves up out of bed every day and head to an emotionally draining job all while carrying the wait of the world in your bodies and minds. But if you can start to turn to God for answers, see the beauty in your illness, and hand over your life to Jesus, maybe getting through each day will feel easier over time.
Go easy on yourself and don't try to be a perfect teacher this year. Remember, you are sick and sickness is hard. But God will never leave you or forsake you (if you are saved), and he has things for you to learn during this season of your life.
P.S. Need some good music to help you worship? Here are a few of my favorite songs to listen to when I am sick.
For when I'm trying to stop worrying and let go….
For when I want to focus on Jesus…..
For when I'm feeling optimistic and want to dance….