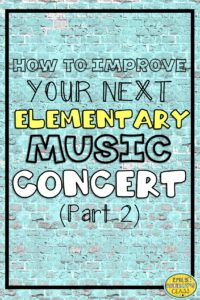 I'm back for Part 2 of tips and tricks for improving your next program! If you missed Part 1 you can click the link below to get caught up (Part 1 also contains a FREE save the date letter to parents!):
#5 Be Careful About Soloist and Special Roles
As a new teacher, I thought that I needed to have 5 dancing santas, 4 readers, and several soloists in every show in order to impress my audience. But when my soloist and BOTH of my back-ups didn't show up to one of my first programs, I learned quickly that these special roles can become a headache if not planned properly.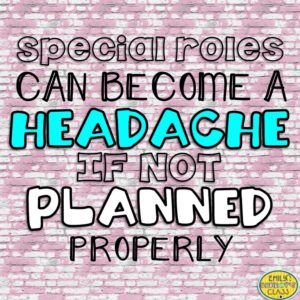 Here are a few tips for avoiding disasters like the one that happened to me:
-Minimize the number of soloists, dancers, and readers as much as possible. Some of this will vary slightly depending on the demographic of the school you are at. For example, my school was very low income and many parents did not have reliable transportation. The probability of a student with a special role not making it to one of my concerts was much higher than it would be at other schools.
-Choose 2 to 3 back-ups for every soloist or special role and allow the back-ups to attend rehearsals. This will ensure that you have a back-up student who knows the part in the event that your primary soloist does not make it to the concert.
-Make all soloists and back-ups return a signed permission slip stating that the parent or guardian promises to make every effort to get their student to the show. Also, include the time of the show and the expected arrival time of the soloist.
-Some may find this a bit overboard, but I would also recommend contacting the parent or guardian of each soloist by phone to ensure that they are aware of the requirements for their student's role in the show. I started doing this after realizing that some parents sign documents from the school without reading them thoroughly (or at all).
-Instruct student soloists and special roles to arrive at the show prior to the other students (about 30 minutes earlier). This will give you time to ensure that all are accounted for, contact any missing students, perform a quick run-through, and get students into costumes (if applicable). It is also a great idea to ask a staff member to help you with some of these responsibilities.
#6 Focus on SOUND!
We have now arrived at the biggest culprit of stressful, mistake-ridden elementary music programs: problems with the sound. While I have not personally, dealt with errors in sound, I have heard several horror stories from fellow music teachers. Keep the following suggestions in mind, and the odds of having an issue will decrease significantly.
-Choose a staff member (I usually chose the art teacher at my school) whose only job the night of the show is to run the sound, and MAKE SURE that this person is able to attend at least one rehearsal. Also try to choose someone who is able to arrive to the show at least one hour early. This will give you time to test the sound and practice running through the first part of each song.
-If your program is taking place at a high school or at a venue with a sound booth, be wary of having a high school student or a person you are unfamiliar with run your sound. I had a friend whose program went south one year when the high school student running her sound accidentally changed the song in the middle of the closing number!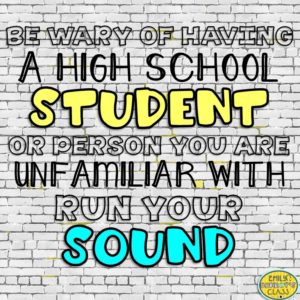 -This might seem like common sense, but don't forget to put all of your songs on one device and in the order they appear in the show.
-Have several back-ups. For my shows, I used one CD with all of the songs for the show burned onto it and in the correct order. I also burned two extra CDs AND had the songs on a playlist on my iPad in case the CD player stopped working.
#7 Communicate With Classroom Teachers
It is very difficult for a music teacher to pull off a performance without at least some help from the teachers of each class taking part in the show. My suggestion is to communicate with them in three different ways. First, ask your principle for a few minutes during one of your professional development meetings to briefly discuss what you will need from classroom teachers the night of the show. During this meeting, pass out a paper to each teacher that contains the information you discussed. Second, a few days before the performance, email the instructions to teachers again. This one can be slightly more detailed than the first. Lastly, Print off copies of the instructions and put them on each teacher's desk (or a location that is hard to miss) the night of the show.
Information to include in your instructions:
-Arrival time of teachers
-Arrival time of students
-Instructions for how to collect or distribute props (especially if props are to be collected or distributed in between songs)
-Instructions for when teachers are to bring their class on and off of the stage
-A seating chart or instructions for what order each class should be in when walking onto the stage. (Note: Below is an example of a seating chart I have used in the past. Notice that there is a picture representing the chairs of the audience and the stage with an arrow pointing to what side of the audience that teacher's class should be sitting on. Underneath that is the order each student in that class should sit in the audience. The tallest kids are on the front row and the shortest are on the back row. This enables the taller students to walk onto the stage first and stand on the back row of risers. I created this seating chart because my annual Christmas concert took place in a high school auditorium and students had to sit in the audience prior to walking onto the stage. If your programs take place at your school, it is more convenient to have each class meet in their classroom. In this situation, each class's seating chart will only need to include a list of students from tallest to shortest with instructions to have the tallest students at the front of the line.)
#8 Prepare A Checklist For The Night Of The Show
It is no secret that stress and anxiety can do strange things to the human mind. If there is a time when a music teacher is more likely to forget silly things and make mistakes, it is the night of the show! Give yourself a cushion by creating a do-to list to refer to. It is also helpful to put each item on the list in the order it needs to be done throughout the day or night. Don't have time to create one? Click below to download a free EDITABLE program checklist!
#9 Other Tips
-Ask your art teacher to have students create decorations for the show during art class in the weeks prior to the show.
-Tell your janitors how many seats you will need for parents (if applicable) and how to arrange risers
-Get a sub the day of the show or show a musical to give yourself time for last minute preparations
-Ask for parent volunteers to help put up decorations
-Send home save-the-dates at least one month prior to the show and a more detailed letter one week before the show.
-Keep a music stand in front of you the night of the show. Place a piece of paper containing the order of the show and any important signals for students on it.
Looking for materials to help you plan your next concert? Click the links below to view products that contain rhythm pieces, winter sing-a-longs, and music programs (with song ideas for your next concert along with save the dates, letters to parents, permission slips, concert instructions, lyric sheets, and more!)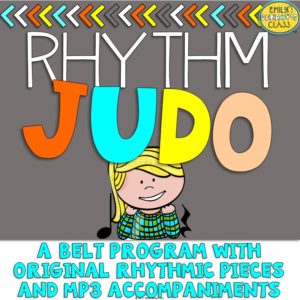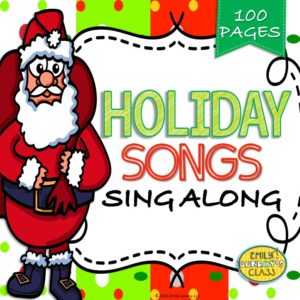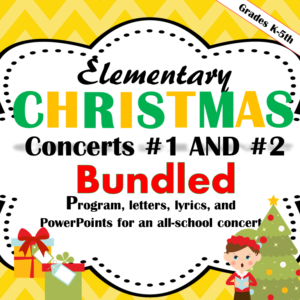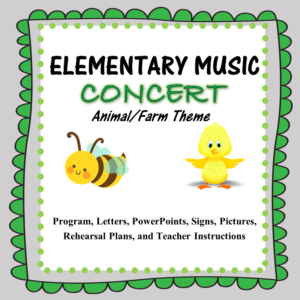 I hope these tips and tricks help your next program to run more smoothly and efficiently. Can you think of anything I missed? Let me know in the comment section below!
Save
Save
Save
Save
Save
Save
Save
Save
Save
Save
Save