The job of a music teacher is much more time consuming than others realize. The reason: programs. Planning an elementary music program is nothing short of taking on a second job. When program season comes around, the music teacher is responsible for planning lessons and getting students through their curriculum while trying to squeeze in enough time to master and memorize the songs and actions for an entire program. Add in the time we miss due to late classes and field trips and you have a recipe for a lot of hard work.
But over the years, I have watched teachers (myself included) turn a difficult situation into an unbearable one by failing to prioritize and to focus on the most important aspects of their concert. My goal in this series of blog posts is to help you prioritize which areas to focus on as you plan your upcoming concert and to give yourself permission to ease up on the things that in all honesty, don't really matter. I hope you enjoy this list of tips and tricks!
#1 Don't Plan Too Many Programs
Let me start by saying that this post is meant for people like myself who function best when things are organized and simplified. If you are someone who truly loves having a lot to do, then by all means, plan as many programs as your heart desires! But for the rest of us, it is important that we limit the number of programs we plan. My suggestion is to do 3 programs with two grades at a time. A good recipe is to do a Winter/Christmas program with 2nd/3rd and two programs in the spring with K/1st and 4th/5th. I NEVER plan a kindergarten program before Christmas break. I have found that they need the entire first half of the year to master the basic skills needed to learn and memorize a few songs and stand on stage.
Also, an extra note of caution for anyone considering doing an all-school program (one program with every grade): I did this for four years in a row, and while it did build a lot of community at my school, it was much more stressful than doing three separate smaller programs throughout the year. With an all-school program, you are much more limited in the type of program you can perform, and speaking/acting parts are more difficult to pull off. The logistics are also more time consuming and require many more hours of planning to execute.
Once your programs are planned, make sure to GET THE DATES ON THE CALENDAR EARLY. My second year of teaching, I didn't schedule my Christmas concert date until early November, and the date I planned had already been taken. We almost didn't have a concert that year! Also, remember to send Save the Date letters to parents at least one month prior to the concert. Don't have time to create one? Click the links below for a free Save the Date to use with your next program!
#2 Pick the Right Music
Avoid picking music that is too difficult for your students. There is nothing wrong with training your students to sing in tune and with expression, but they can do this with age (and skill) appropriate music. The difficulty of the music will depend upon the skill of the students at your school, something that can vary greatly from one school to the next, so try to avoid comparing your repertoire with that of another teacher in your district. There were a couple of occasions where a teacher at my school made comments about my programs not being as elaborate or difficult as another music teacher's. I had to remind myself that those programs would not be appropriate for the students at my school.
When choosing your songs, pay extra close attention to the lyrics, and do not be afraid to LET YOUR STUDENTS OMIT DIFFICULT OR LENGTHY VERSES. It can also be helpful to hold up cue cards containing the first few words of each verse.
Remember that the parents and staff at your school care more about the program being fun and entertaining than they do the difficulty of the music. This might sound strange for those of us who have degrees in music and perform in fancy ensembles outside of work, but it is the truth. So throw in a dancing Santa or goofy actions before you overload your kids with music that is too advanced.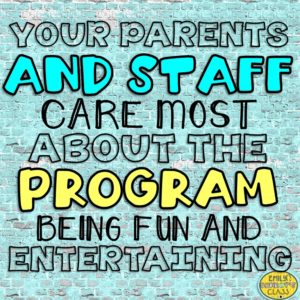 #3 Start Teaching the Songs Early
How early? I started teaching mine 2 ½ months before the program. That means that on Halloween, we were singing Christmas songs! If you don't want to start that early, I completely understand, but the point is that early is always better. You won't be as stressed about students memorizing the words or dance moves and you might even be able to fit in some of your curriculum while preparing students for the show!
#4 Simplify Your Actions/Dance Moves
You might be noticing the trend of simplifying throughout this post. An amazing thing happens when you simplify a program and make the songs, lyrics, and dance moves attainable for your students: they master them and perform nearly perfectly at the concert. Because they do so well, they start to really love performing, and they look forward to the concerts.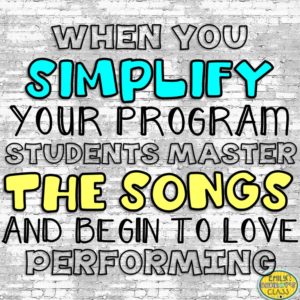 Here are some tips for choosing and teaching the actions/dances for your songs:
Choose moves your students can handle (unless you have a group of talented dancers you want to feature during a song)
For teachers: memorize and be able to perform the dance moves facing your students AND facing the audience.
Don't teach the actions to a song until your students have mastered the melody and have memorized the words.
Begin by speaking the words to students and having them do the actions without singing or speaking. Do this slowly, not with the tempo of the song.
Repeat that process as you sing slowly to students (they should still be silent).
Finally, allow students to sing slowly as they dance.
Teach students what to do in between each move. I usually have students drop their arms to their sides on a certain measure or beat.
Practice the difference between normal standing posture and stage presence posture. After students have learned the moves to a song, it is crucial that you require them to stand with good posture EVERY TIME they practice a piece. I would even kindly remove any students slouching or fidgeting during a song until they can get their bodies under control. There are many areas to ease up on during performances, but this is not one of them. It teaches kids that they can discipline their bodies, and it makes a HUGE difference in the look of the show.
Looking for materials to help you plan your next concert? Click the links below to view products that contain rhythm pieces, winter sing-a-longs, and music programs (with song ideas for your next concert along with save the dates, letters to parents, permission slips, concert instructions, lyric sheets, and more!)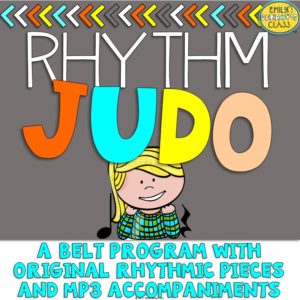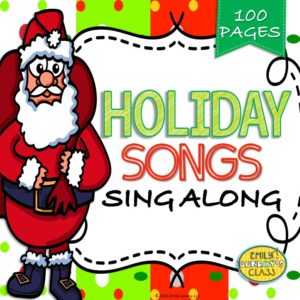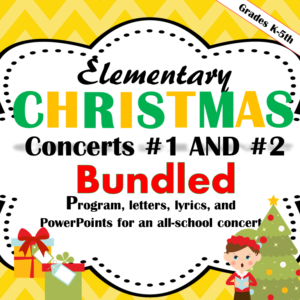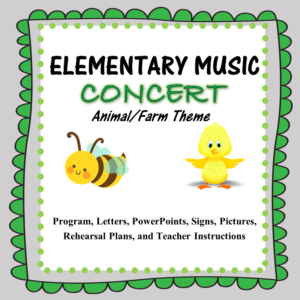 I hope you enjoyed my first round of advice for planning your next concert. Click the link below to view part 2 of this series:
How To Improve Your Next Music Concert (Part 2)
Have any unique or helpful ideas for making concerts run more smoothly? Let me know in the comment section below!
Save
Save
Save
Save
Save
Save
Save
Save
Save
Save
Save
Save
Save
Save
Save
Save
Save
Save
Save
Save
Save
Save
Save
Save
Save