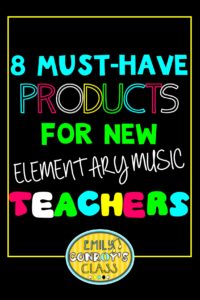 I remember feeling SO stressed when I thought about what to teach the summer before I started my first elementary music job. I had created a few weeks' worth of lessons during student teaching, but it was no where near what I needed to get through a whole year. My district provided a textbook, but I honestly wasn't thrilled about the activities and sequencing in them, and I had very little resources from my time in college.
My other problem was my budget. I received a small $200 per year music budget, and was making my district's base salary. As I began browsing the internet for resources, I learned that the average price for lessons was $120 for ONE GRADE! But I needed SIX grades. Yikes! Back then, there were no affordable places to find resources like TeachersPayTeachers (TPT) or Pinterest. So, with no other options, I started working late writing lesson plans and assessments and creating resources. With all of the other requirements of teaching music (i.e. concerts, after-school clubs and rehearsals, leadership teams, assessing, etc.) it took me FIVE YEARS to complete all of my lessons, resources, assessments, rubrics, and curriculum. Looking back now, if someone told me I could have all of that plus resources for listening activities and composer units for only $150, I would have been ecstatic.
Below is a list of all the resources I would purchase if I were starting over as an elementary music teacher. Everything on the list (with the exception of #6) adds up to $136. While that might seem like a lot for a new teacher without much money, I believe that the amount of time and stress it will save you is more than worth the cost. Numbers 1-5 are all from my TPT store. I included these resources because I believe they form the basis for what every elementary music teacher needs. The other great part is that they were all created to go together! That means that my lesson plans were sequenced using my simplified curriculum, and the majority of the concepts found in my assessments and rubrics are taught in my curriculum and lessons.
When I created this list, I tried to imagine what I would HONESTLY purchase if I were a new teacher starting over again. So I had to be honest and include a product from another seller's TPT store (that I find totally amazing) as well as a line of books that I love (although you would probably have to save up and buy one or two of these books at a time).
I hope you enjoy the list! Are there any other products from TPT or around the web that you think are must-have's? Let me know in the comment section at the end of this post!
#1-2: Lesson Plans and Resources
I put these links first because they are, in my opinion, the most important thing for a new elementary music teacher to buy. The lessons include 6-8 lessons per month for each grade, K-3 and 5 (I spend the majority of the year teaching my students the Recorder Karate songs from Music K-8 in 4th grade. My school already had this resource, and I highly recommend it!) The resources include the majority of the PowerPoint presentations, posters, worksheets, and classroom management strategies mentioned in the lessons. You can also purchase the lessons and resources by grade level. Just click the images below to be directed to TPT and then search the product description for the link to the grade level you want to purchase! You can also click here for the lessons or here for the resources!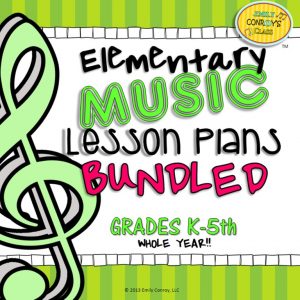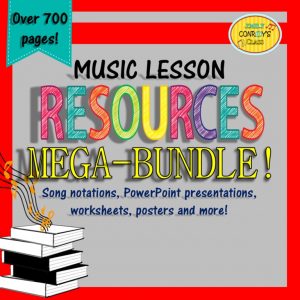 ******UPDATE******I recently posted a new set of lessons to my TPT store, so I decided to add it to this post (this product is not included in the $150 total mentioned earlier in the post). This new set contains 120 lesson plans and over 1,500 pages of resources to go with the lessons. I designed it with a few perks that are not included in my first set including over 40 original songs and MP3 sound files (included with the lessons), alignment to the National Core Arts music standards, and lessons for K-5th grades (it includes 4th grade!). This set contains even more detailed explanations than the first set and is therefore perfect for teachers with minimal musical experience. You can also purchase the lessons by grade level. Just click the images below to be directed to TPT and then search the product description for the link to the grade level you want to purchase! You can also click here for the lessons!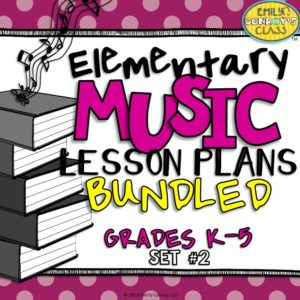 Are you confused by the differences between my first and second sets of lessons or looking for more information? Click the link below to be directed to a FREE product that explains the differences in more detail.
#3: Simplified Curriculum
Anyone else have a "freak-out" moment when they first opened their district's curriculum?! Or worse, maybe your district doesn't even have a curriculum! This product is a simplified version of the MASSIVE curriculum I had as a new elementary music teacher. Each grade level contains three sections: Priority 1st Semester, Priority 2nd Semester (after Christmas break), and Nice to Know. This allows you to focus on a small group of concepts for the first and second half of the year. If your students get through all of the material before the year ends, then switch your focus to the concepts found in the Nice to Know category! You can click the image below to be directed to the curriculum page, or simply click here!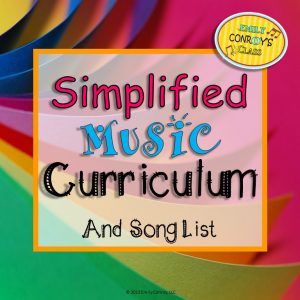 #4-5: Assessments and Rubrics
The assessments enable you to track student growth regarding specific musical concepts. Each grade level contains a cumulative assessment that measures a variety of concepts taught to that grade level. The rubrics are a great way to assess students without stopping class to administer a paper-pencil test. Simply observe students as they perform rhythms, sing, play the recorder, or display other musical skills and mark their score (either a 1, 2, 3, or 4) using the criteria on the rubric. You can click the images below to be directed to each product, or simply click here for the assessments and here for the rubrics!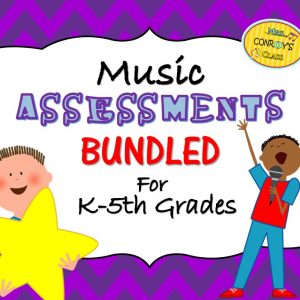 #6: Listening Unit
As a new teacher, a great way to calm a class down (and give yourself a breather!) is to have students do some good old-fashioned listening. When I first saw this unit on TPT I thought, "Oh man, I so wish I had that when I first started!" It is adorable and contains listening selections from a wide range of genres. Granted, it's a bit pricy, but I would definitely bite the bullet and purchase it if I were a new teacher. You can click the image below to be directed to the listening unit, or simply click here!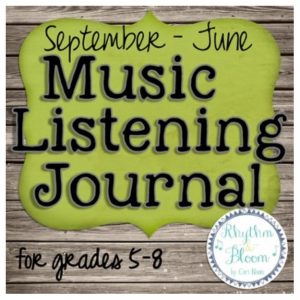 #7: Composer Unit
This unit includes resources for 23 different famous composers. It is unique, in comparison to other composer products I have seen, in that informational PowerPoint presentations are included for each composer. These presentations include historical and geographical information from the time-period as well as information on the composer's life and most popular compositions. You also get research pages, writing prompts, coloring pages, posters, trading cards, and exit tickets for each of the 23 composers included in the set! You can click the image below to be directed to the composer unit, or simply click here!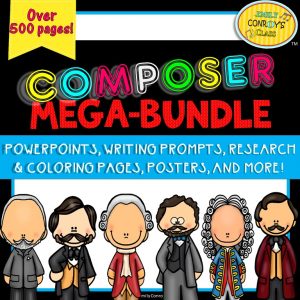 Want to try this product out to see if you like it? Check out this free sample!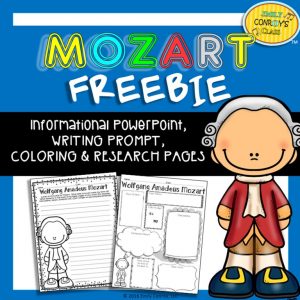 #8: Freddie the Frog book series
Each book in this series tells a fun tale of Freddie the frog and his friends and focuses on specific musical concepts such as rhythm or the lines and spaces on the staff. The books come with a CD (perfect for days you are sick or lose your voice!) along with supplemental activity ideas. Check out the website to view products as well as free online games and coloring sheets!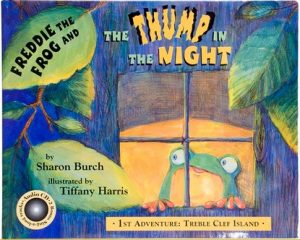 Save
Save
Save
Save
Save
Save
Save
Save
Save
Save
Save
Save