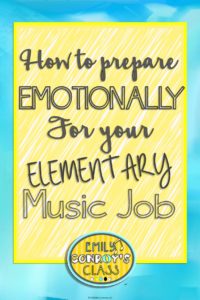 Whether you are a new teacher or have a few years under your belt, working as an elementary music teacher can be emotionally scary and draining. I remember struggling with so many thoughts and fears early on in my career. "What if the other teachers don't like me?" "How will I handle planning lessons AND concerts at the same time?" "What if my programs turn out awful?!" If you are a new teacher struggling with fear or a returning teacher who still doesn't feel peace at work, this is the post for you!
Over the years, I have learned that going into the school year with a plan and a healthy mindset can go a LONG way towards a healthy emotional state. Here is a list of 4 strategies to help you gain a more peaceful life at work.
1. Choose 2 or 3 goals for your school year
Narrowing down your list of goals allows you to stay focused on the most important things throughout your year. What are the main things you want to accomplish as a music teacher? When you look back at your career, what do you want to have accomplished? My #1 goal each year was to make the students feel loved. I felt that if I did this and everything else turned out a disaster, the year would still have been a success. My #2 goal was for my students to master two musical skills: basic rhythm reading and naming the lines and spaces on the staff. There is a lot more to music than those two skills, but choosing this goal enabled me to ensure that these skills were mastered by all grade levels each and every year. It also prevented me from accidentally spending too much time on other musical concepts and not enough time on these two fundamentals. What are your goals for this school-year?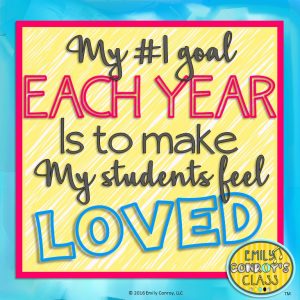 2. Practice saying "no"
Choosing goals can make it easier to say "no" at the appropriate times. When someone asks you to do something, ask yourself, will this help me to achieve my main goals for the year? Will saying "yes" take too much focus away from one of my goals? For example, because one of my goals was to spend adequate time teaching students about rhythms and notes, I was careful not to take on too many extra performance opportunities. I had roughly 6 school and district-wide performances each year. Many of you know that it is difficult to teach curriculum while a grade is preparing for a performance, so when those extra requests for students to sing at sporting events or community ceremonies came up, I made sure to consider how much time it would take away from those core concepts.
3. Spend some money
Let me just preface this next point by saying that I am seriously the most frugal person on planet Earth. My husband and I hold to a strict budget (mostly in an effort to pay off our student loans), and we never spend money we don't have. However, when I look back at my first few years of teaching, I am pretty sure my frugality added a TON of stress to my life as a teacher. I spent countless hours lesson planning, simplifying my district's curriculum, creating assessments, and planning programs. I lost loads of sleep and time with the people I loved, and I gained a lot of anxiety and stress. I am grateful for the resources I created early on, but I honestly don't know if I would do it again.
I know that extra money is hard to come by for teachers, but try to find an extra $20 here or $50 there. Maybe you could avoid eating out for a few weeks or avoid the mall for a while. There is nothing wrong with creating some resources for your classroom, but doing what I did, and creating EVERYTHING from scratch is so stressful!
4. Reflect upon where you get your worth.
Although I put this last, I think it is most important. In my work as a counselor, I often noticed that the areas people worried and stressed about the most also happened to be areas from which they derived the most worth. In my early twenties, I felt that I needed to be successful to be "okay." As a student, that meant getting A's. As a friend, that meant being the "life of the party." And as a teacher, that meant always having control over my classes, putting on flawless programs, and receiving perfect evaluations from my administrator. Ironically for me, I failed at most of those things during my first few years as an elementary music teacher. Since my idea of personal worth was tied up in these failures, I found myself in a state of deep sadness and anxiety.
I frantically raced to hold everything together. I worked late hours, put on a happy face in front of my colleagues, and planned extravagant programs. But I still felt uneasy, anxious, worried, sad, and unsettled deep down. Looking back now, my problem wasn't my job, it was me. I had learned to love myself only if I "performed" well. And when I finally started failing, well, what was left to love?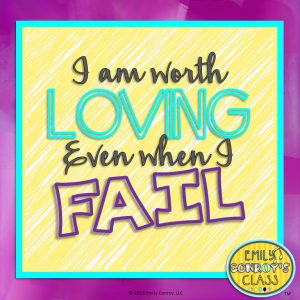 Of course, now I know that there is so much more to me than my performance at a job, my grades in school, the number of friends I have, or how I look. It took me many years and a relationship with Jesus before I could truly believe it, but it is the truth for me and for you. I hope that you will do some reflecting into your own heart before you go back to work this year or this week. Ask yourself, what do you truly believe about yourself? Are you only valuable if you excel at your job or if you are the most popular person in your building? Let me know in the comment section below what you discover!
Save
Save
Save